naj
I attended the conference 4Ccon by Free Software Movement of India from Jan 26-29, 2017
First day I handled a workshop on "Real Time Bigdata Analysis using ELK Stack". Here are my learnings.
The Next day, was attending talks like Smart Governance, Demonetisation & Digital Infrastructure, India Stack etc. Most of the things are new to me. Have to read more about them.
The Third day went with talks like Wikipedia and FSM by Ravi, Tulu wiki community by pavanaja, GenderGap in wiki by Dhanalakshmi, IT in Classrooms by FSMK.
Last day went with FSMI meetings and elections.
The problem with multi track conferences are we love to attend many sessions happening on same time. Heard that sessions were recorded for youtube publishing.
The interesting thing with conferences is to meet interesting people, whom, we met in IRC and mailing lists for years. Putting a face to a nickname are good moments. I met few great people and got some actions items to do in the upcoming dates to collaborate with their projects.
Ravi – Wikipedia :
Discussed for a workshop on Building tools for wikipedia API. Will write a document introducing mediawiki API and python libraries like wikitools. Then, we can host a workshop in chennai.
Srikanth :
He is building Tamil Maps see in action.
Now, we need the places, city, street names in Tamil.
He has prepared the google sheets ready to be translated and posted notes / guidelines on how to translate in the same sheet.
The script to upload the translated names is also available.
Tamil Nadu has ~2000+ places to be translated. Will help on translating.
Planned for a Full Web application with mobile app, for these kind of small translation works, so that any one can easily contribute on the go.
He asked me to update the
booksdb.xml
of FreeTamilEbooks with all file types and Categories for all the books.
Ganesh :
Ganesh is an Electronics, Geography interested man. Asked him to start his own company to give consultations and projects on his interested areas. Requested him to fix the Pondicherry Science Planetarium machines with non working buttons, disconnected wires.
Lenin :
Lenin is a great contributor for FreeTamilEbooks. He installs offline digital libraries with wikipedia dump, Project Madurai books and FreeTamilEbooks. He demonstrated how he is using Calibre for setting up digital library. He showed few OpenText books on Chemistry and Biology. Will be good if someone translates them in Tamil. Will look for writers.
Pavanaja, Dhanalakshmi:
They are from Karnataka. Pavanaja helped the
Tulu wikipedia
to go
Live
. He asked to send details about my Project
OCR4WikiSource
. Hoping to see many Kannada books on WikiSource.
Dhanalakshmi is building women community on her living area. They organize edit-a-thon, and training on Wikipedia.
Selva :
He is from puduvailug. He is writing tutorials on Python in Tamil. Asked him to send to Kaniyam.com
Murugavel :
He is helping libraries to get funds, books from government and other societies. Discussed him about the idea of subscribing all govt school students on TN with nearby library. He asked to register for a society and do all the activities on behalf of the society.
Asked him to get permission for the photographs of Bharathiyar house and his friends. Hope we can publish all the bharathiyar related photos on commons. Will get a letter from Wikimedia India chapter and follow the pondy govt with the help of Murugavel and Maniraj.
Sindhuja:
She is a school teacher. She felt that it is difficult to make the wiki contributing interesting for the students. Told about the wikidata games. Asked her to explore them and comeup with the new ideas for new games. Will learn wikidata games and create few games.
Raju :
He is an intern in HamaraLinux. He is into debian packaging. Asked him for a workshop in chennai for debian packaging and other contributions for debian and hamara linux. Will explore how I can contribute for debian and hamaralinux.
SFLC.in :
Software Freedom Law Center in a lawers association for Free Software in India. Spoke with them to get the source code for TTS Engine developed by SSN, funded by MHRD via IITM. Will follow with them for RTI or other legal activities to get source code.
Community Centers at Bengaluru :
There are two community centers by FSMK. They educate poor school children daily evening.  They teach GNU/Linux, Music, Dance, Cooking, Public Speaking, Multimedia editing etc. Students demonstrated their skills with a nice skit and dance.
There are great needs of such community centers in Chennai too. Will look for the possibilities of one on Tambaram.
TNQ :
They demonstrated a FireFox Plugin MuLTiFlow Have to check with the author Suki Venkat, if it can be used to generate ebooks for FreeTamilEbooks.com
Tiny talks with Yogesh, Ramashesan, prasanna, puduvailug, karailug friends are encouraging me for more contributions.
With all these, the conference gave good talks about various trends.
Connecting with people creates more ideas, to-dos. With these actions items to do, I have to plan, prioritize, allocate time. Reply here if you can contribute for any of the ideas, tasks mentioned above.
Thanks for all the volunteers, organizations, sponsors for the great event.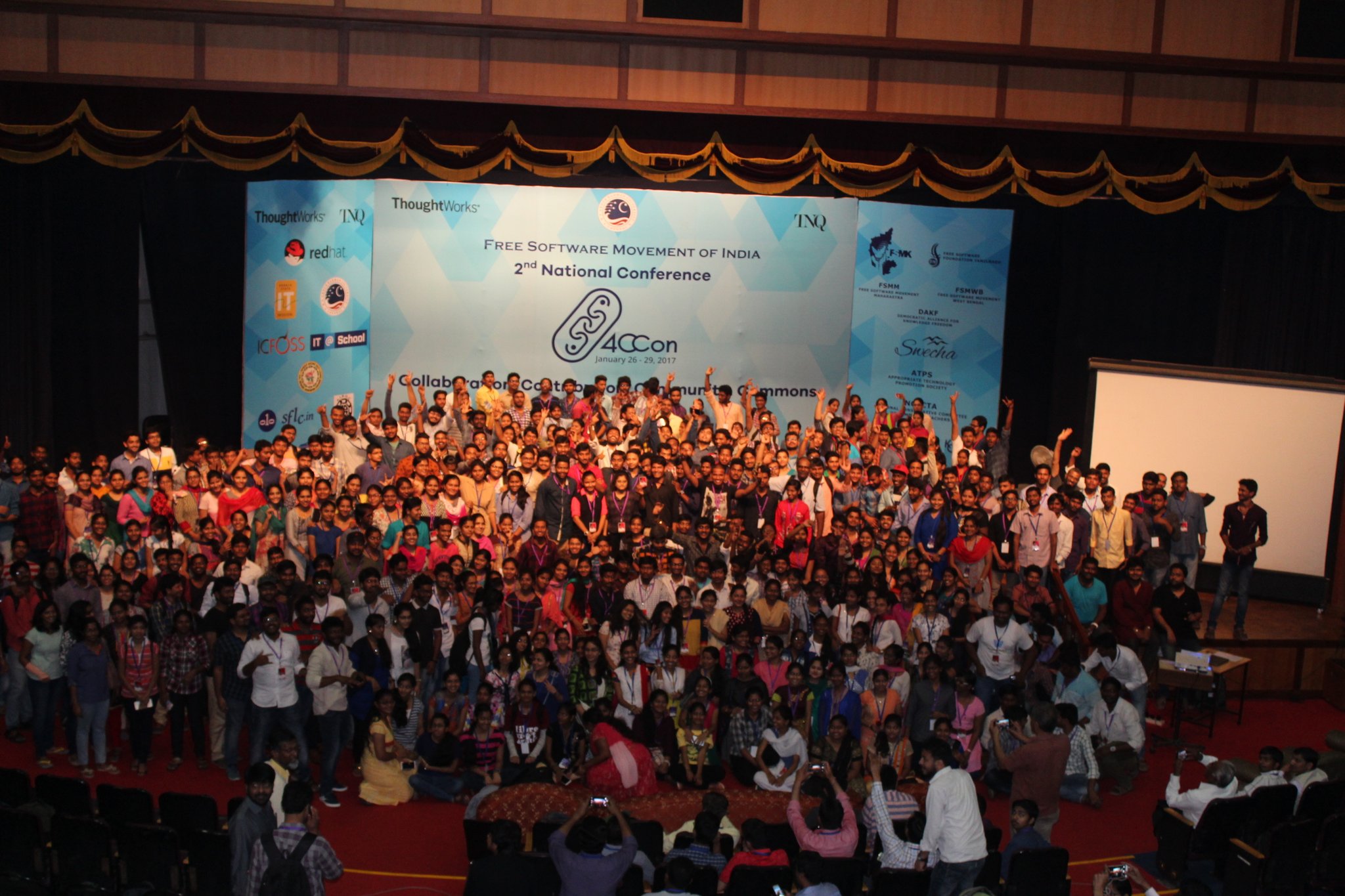 Special Thanks to FSFTN friends for the pains of organizing this conference.
Shared few snaps here https://goo.gl/photos/J1spu2AZPokQYejm8