Just now returned from a party by the event organizers, at a nearby pub Arena. It is so much refreshing, to dance after a long time.
Today, was filled with so much of hacking the project I am working on. Learned a lot of new jargons in Docker arena. Finally, I could install the LinguaLibre software in my laptop with the help of dockerisation by Pablo.
LinguaLibre is a web application, which can help you to record audio files with the web browser itself. I am thinking on adding a backend job for this software, to send all the audio files to commons and add them in relevant wiktionary pages.
1.
I tested all the docker fixes by pablo for new installations, so that any one with docker can install the software easily. I am working on integrating python backend scripts. stuck somewhere in the deep hole. Hope pablo will help to create new docker containers for the python scripts.
2.
I helped Dafna, who is next to pablo, on installing Lingualibre on her laptop. She speaks arabic language. She wanted to give support for arabic writing. i.e right to left to this software. She started to hack the Javascript files and to play with PHP files immediately. Pablo is a great mentor. He explained all the internals of symphony, doctorine, git etc to her. She is almost done with her fixes. Good to see the things are happening so fast.
3.
LibraLingue is in French. I translated all the french strings to English, with the help of google translator. Hmmm. Now, I feel better to use the software. Finally, I know what I am clicking on the screen.
4.
Was discussing with praveen, to have some time on fixing the iOS app, for commons. Few years ago, it was there on the iTunes store. But now, it is not available. He agreed to explore on this. If you are an iOS developer, and can help to work on this app, comment to this post. Will connect the interested people. The source code is on GitHub .
5.
Met Tim on the steps. He worked with OpenStreetMaps. Asked him for the tools available to add street names to OSM with any mobile. Most of the mobile apps for OSM, give the facility to add Point of Interest(POI) like shops, buildings. But, India, what we need and miss mostly are the street names. He asked to explore vespucci. we can get it from Googles play store and from amazon and from f-droid.
6.
Attended a session on Future of LDAP Extensions, by Robert Vogel. We discussed about dropping this and moving the Pluggable SSO extension, as it gives more features. Brainstromed on the requirements and ideas to implement. I asked to give a web interface to test the server and authentication details, and to show the error messages on the screen. You can read the notes here.
7.
Attend a session on ORES. It is an XRay engine to the wikipedia contents. It has all the interesting buzz words like machine learning, artificial intelligence, building models, training dataset etc. Aaron Halfaker explored on how to use it in English wikipedia, how the training and scoring works. Asked him if this can be used to score and filter the contents apart from wikipedia like wordpress/facebook comments. He will look on this.
Someone asked as what will happen if I train the ORES wrongly and use it to score all my bad edits to good. He replied as to remove all yours training data and train again with some good person.
Remembered this XKCD in machine learning.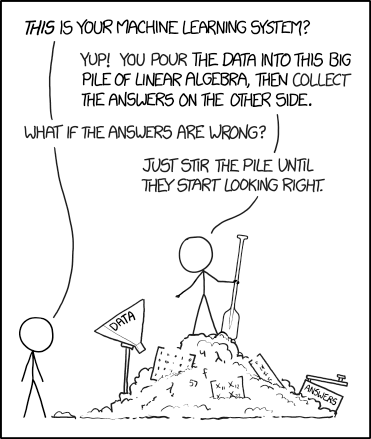 8.
Checked with the design team, if it is possible to add a floating tool bar to the wikisource text area, so that we can easily add the formatting strings and symbols. They agreed for this. Tried to do as a simple hack. But it needs more efforts. So added an issue on phabricator to work later.
9.
Petr Bena demonstrated his tool Huggle.  One of the great part with this hackathon, I found is to meet and discuss with the people, who created the software we use in our daily life. ORES, Huggle and lot of software were demonstrated by their original creators. Huggle is a desktop application to do gatekeeping the wikipedia articles easily. We can see the recent changes, allow them or delete them quickly.
Asked him to provide support for Tamil wikipedia. He raised a ticket for this immediately. Dear Tamil Wikipedia patrons, Here is a great tool for you. Let us explore it.
10.
Met a photographer, Manfred werner. He lives in Vienna, doing photography as hobby. He helps to shoot all the events of Wikimedia Austria. The chapters lends him good cameras with big lenses. He is so passionate on commons. He explained me the guideliens he follows on uploading to commons, the photography workflow he follows, about copyright issues on various countries.
11.
There was a group photo session. A paronamic view is available here.
12.
There was a DJ party for us, in a nearby pub. We reached there around 10. It was excited to see the hardcore hackers are dancing like regular dancers here. Enjoyed dancing with the geeks. These english songs are for mild, easy dancing. I asked the DJ guy, if he can play any Tamil Rap song for a high energy dancing. Downloaded the song, "Night Varia" from Pudupettai. That is one of the song for which I dance like a monster, with all my heart and bones. Thought of introducing this song to Vienna. Unfortunately, the DJ system does not support input from mobile. Have to check with my audio engineering friends on how to fix this.
Then, DJ played some fast instruments. Those drums made all of us to dance. It started to rain. So, we could not go out. Continued to hangout there till 1 pm. Then reached JUFA hotel.
It is 3.41 am now. Can see still there are some monks are sitting in the lobby and hacking on their projects. I am done for the day. Tomorrow, will be more interesting.
Thanks for all who encouraged my blog posts and photos.
Here are todays photos collections – https://www.flickr.com/photos/tshrinivasan/albums/72157683964819586